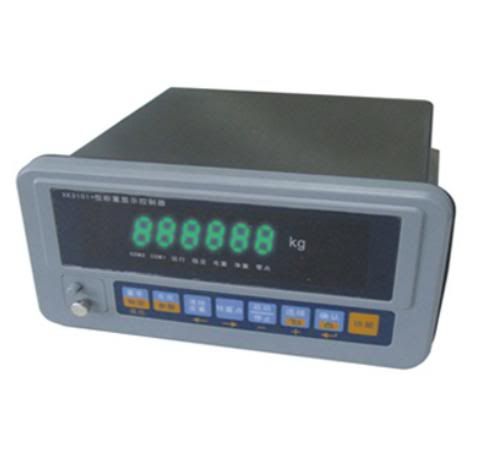 WEIGHING CONTROL INDICATOR - XK3101+

Weighing control indicator is a control indicator that used to the industrial control fields.
It has many kinds of series interface (modbus and profibus), on-off input and output interface, extensive analogy data interface, on-off output can set in four ways, can apply into blending, fixed data, upper and lower limit testing etc conditions.
Abundant interfaces can be connected with DCS system directly.
Indicator housing is aluminium, and conveniently embedded into control cabinet. Indicator is designed strictly accuracy class is III, can apply into all kinds of industrial weighing control fields.
Feature:
- Model: XK3101+
Adopts 7 bits VFD (vacuum fluorescent display)
Isolated RS232/RS485 communication interface
10 on-off (optical coupling isolation) (4 input, 6 OC output)
Keyboard lock function
Profibus interface (optional)
4-20mA/0-10V analoge output (optional)
Built-in assistant DC12V/300mA power supply output (be able to drive relay output)
On-off output can be set batching mode (double speed double material, single speed four material), fixed value mode and top and bottom limitation