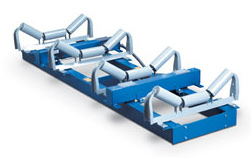 Ramsey* Series 14 Belt Scale System introduction
Thermo Scientific Ramsey Series 14 Belt Scale System is specifically designed for high accuracy or basis-of-payment applications requiring certification by government and regulatory agencies.
It incorporates the Ramsey 10-14 low-deflection, full-floating unitized weighbridge and the Ramsey 61-12C belt speed sensor. Both are well-proven on hundreds of precision belt weighing installations. It also utilizes the Ramsey Micro-Tech 2301 or 3301 electronic integrator and the Ramsey 2301-D load cell exciter/digitizer, which are the products of 50 years of design and application experience with high-accuracy belt scales.
Ramsey* Series 14 Belt Scale System Specifications
Weigh span
Three- or four-idler suspension; 2,743mm (108 in.) minimum weigh span
Clearance requirements
Fits any standard conveyor; No space required above belt line
Idlers
Normally furnished by customer; Thermo can supply idlers upon request
Conveyors sizes
457 to 2,134mm (18 to 84 in.) or 400 to 2,000mm (15.75 to 78.75 in.) belt widths
Weighbridge construction
Mechanical steel tubing
Weighbridge mounting
Eight bolts (four per support beam) to conveyor stringers
Ramsey 2301-D Load Cell Digitizer/Exciter
Digitizer type
Continuous electronic load cell to digital signal digitizing
Enclosure
NEMA 4, 14-gauge steel
Circuit construction
"68332" 32-bit microprocessor with up to 512 Kb ROM (program) and 512 Kb RAM
Power requirements
115/230 VAC selectable, 50/60 Hz
Input Output
600, 9600, 19.2 k, 38.8 k baud RS-485; Compatible with Ramsey Micro-Tech 2301 or Ramsey Micro-Tech 3301 Integrators
Communication Input/Output
Sockets for four OPTO-22 I/O modules
Calibration
None required
Operating temparature
-40°C to +50°C (-40°F to +122°F)
Temperature sensitivity
-10°C to +50°C (+14°F to +122°F):

Zero: 0.15 µV/°C (0.08 µV/°F) maximum

Span: 4 ppm/°C (2.22 ppm/°F) maximum



-40°C to -10°C (-40°F to +14°F):

Zero: 0.15 µV/°C (0.08 µV/°F) maximum

Span: 8 ppm/°C (4.44 ppm/°F) maximum
Accuracy
Within 0.044% of load cell capacity over full temperature range of -40°C to +50°C (-40°F to +122°F); Within 0.022% of load cell capacity over full temperature range of -10°C to +50°C (+14°F to +122°F)
Linearity
Better than 0.01% of net, for inputs from 0 to 105% of full scale
Speed input
0-2000 Hz; Compatible with Ramsey 60 Series Speed Sensors
Isolation
Load cell and speed sensor inputs are optically isolated from other circuits
Load Cells
Quantity
Four load cells in parallel
Enclosure
Environmentally-protected "S" type cell
Mounting
Tension
Excitation
10 VDC ±5%
Output
3 mV/V ±0.1%
Non-linearity
< 0.03% FS
Non-repeatability
0.1% FS
Hysteresis
< 0.02% FS
Operating temperature
-54°C to +93°C (-65°F to +200°F)
Temperature sensitivity
Span 0.0014% FS/°C (0.0008% FS/°F)

Zero 0.0027% FS/°C (0.0015% FS/°F)
Overload
Safe to 150% of load cell capacity; Ultimate to 300% FS; Sideload 50% FS
Rating
FM Approved for Class II, Div. 1 & 2, Groups E, F & G; NTEP Type III, 5000 divisions; OIML
Ramsey 61-12 Digital Speed Sensor
Type
Digital, brushless
Mounting
Direct to 15.88mm (0.625 in.) diameter stub shaft on tail pulley, bend pulley, or return roll
Housing
Weather-tight, epoxy finish, cast aluminum
Mounting hardware
Supplied with coupling, restraint arm and restraint spring
Shipping weight
3.6 kg (8 lbs.)
Approval[s]
FM Approved for Class I, Div. 2, Group D; Class II, Div. 1 & 2, Groups E, F & G
---
Newer news items:
Older news items:
---